« Changes Between the 2010 and 2011 Instructions for Form 1099-R | Main | EBSA to Re-Propose Rule on Definition of a Fiduciary for IRAs and Pension Plans »
Wednesday, May 18, 2011
IRS Issues 2012 Indexed Amounts for HSAs
IRS Issues 2012 Indexed Amounts for HSAs
The HSA contribution limits for 2012 are slightly larger than the 2011 limits. The Treasury Department and Internal Revenue Service issued new guidance on the maximum contribution levels for Health Savings Accounts (HSAs) and out-of-pocket spending and deductible limits for High Deductible Health Plans (HDHPs) that must be used in conjunction with HSAs. The 2012 limits are set forth in Revenue Procedure 2011-32. In this revenue procedure, the IRS did not discuss whether the catch-up contribution amount of $1,000 changed. We have assumed it did not change for 2012.
HSA Maximum Contribution Limits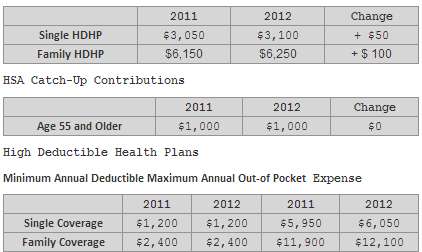 The IRS announces this change in May each year so that employers and individuals will have sufficient time to settle on HDHP insurance coverage and HSA contributions for 2012.