IRAs hold more than 25% of all retirement assets in the United States. Much of those assets arise from rollover contributions coming from the distributions of participants of employer sponsored pension plans rather than annual IRA contributions.
The 2011 total contribution amount due to rollovers was $76,566,000,000 whereas it was $5,962,000,000 for annual contributions. That is, the amount contributed as rollover contributions was 13 times the size of the annual contributions. These amounts and ratios are consistent with such amounts and ratios derived from IRS data.
This rollover article is based on an article written by Craig Copeland with the recommended citation, Craig Copeland, "Individual Retirement Account Balances Contributions, and Rollovers, 2011." This article is copyrighted, but it may be used without permission as long as there is a citation of the source.
The number of IRAs within the EBRI data base receiving rollover contributions was 1,058,000 whereas it was 1,601,000 million for annual contributions. The average annual contribution was $3,723. The average rollover contribution was $72,398. There is a reason that most financial institutions direct their marketing campaigns towards rollover contributions and direct transfers in the case of inherited IRAs.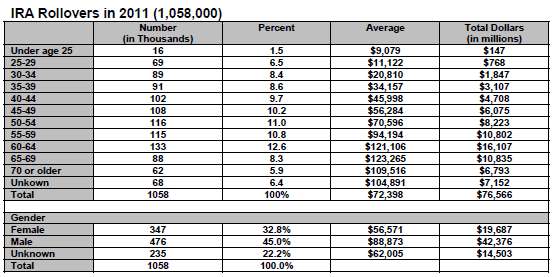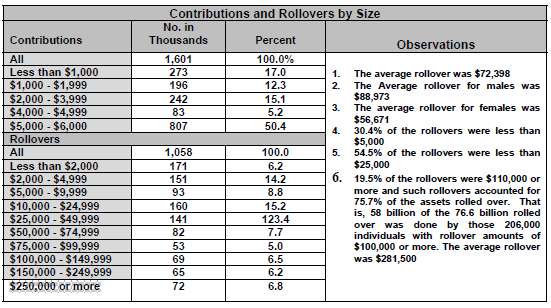 Categories: Traditional IRAs